Here we go!!! Who wants sunny weather? Our customers do! And we want the opportunity to care for your dog while you are away. We love dogs and we love caring for them, our staff wants you to go on that much needed vacation and feel comfortable leaving your dog in a Clean, Safe and Fun Environment of DogJax. Please call and set up your spring break or other travel plans dates for your dog. 307-733-DOGS or email us info@dogjax.com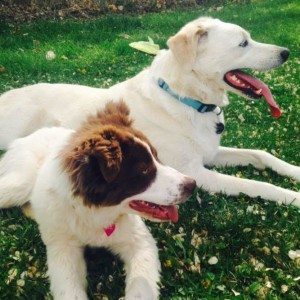 We do not want you to stress about leaving your furry children while you travel. We want your dog to be Happy, Healthy, and Cared for while you are away. Here are some tips to ensure that your dog has a great stay with us while you are gone:
 If your dog is new to boarding please take advantage of a day or two of daycare before their stay. Dogs that come to our facility more regularly have a "no stress" and "no fear" stay while you are away. Even a day of daycare before your vacation can help the dog acclimate and understand that you will come back and get them!
Read and follow our tips for a great boarding stay! Use the link below to see our FAQ and TIPS page http://dogjax.com/overnight/ and http://dogjax.com/overnight/faq/
 Consider Pre Bagging your dog food. This is a time saver and ensures that we feed your dog the correct amounts. This also allows you to put in any extra treats, supplements and other goodies you want your dog to have while they stay. We can also feed our dry food if you prefer (additional fee applies.)
 Make sure we have up to date Vet Vaccination Information. We want all dogs that come to DogJax to stay happy and healthy. We require up to date vet records in order to ensure that your dog has a safe stay with us.
 Relax while you are away. Enjoy spending time with friends and family. Feel confident that we will watch your dog closely and monitor any signs of illness or injury. Though rare, injury and illness do occur. Our goal is the same as yours, to have a happy and healthy dog, however, as some dogs play we have seen minor injuries such as cuts, scrapes, and scratches. These typically happen as dogs are playing and interacting with each other using their mouths. The main areas of injury are ears, nose, and face. Dogs have teeth (as you know) and they use their teeth while playing and interacting with other dogs. We feel that appropriate social interaction is normal and allowed and sometimes this causes minor injuries. We discourage any and all aggressive behavior and separate dogs that are acting aggressively.
https://dogjax.com/wp-content/uploads/2020/09/DogJax-by-Wiggles-n-Woofs_horz-300x96.png
0
0
dogjax
https://dogjax.com/wp-content/uploads/2020/09/DogJax-by-Wiggles-n-Woofs_horz-300x96.png
dogjax
2016-03-14 23:42:46
2017-01-18 23:21:25
Get Ready…….Get Set……….Spring Break!!