We offer the following and more…
Full Service Grooms
Brush Outs
Baths
Nail Trims
Lice, Flea and Tick Treatments
De-shed Treatments
Hair Cuts
Breed Specific shaping
We want this to be an added service to make your experience with us even that much better! Drop off your dog for a Day of Play, an Overnight stay or just for a bath – they will come home smelling wonderful!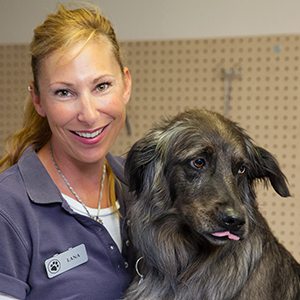 Lana
I grew up in Pleasant Hill Calif. I became an electrician at the age of 26 and worked in the electrical industry for 14 years. Six years ago my husband and I moved to Teton Valley Idaho to get away from big city life. Despite living in one of the most beautiful places in the world, I was still not content, so I decided to pursue my life long dream of working with dogs.
I attended Animal Behavior College to become a certified groomer and am now living the life I have always dreamed of living. The thing I enjoy most about grooming is developing a trusting and loving relationship with the dogs in my care. Every dog has their own unique personality and I try to incorporate that into their groom so it's a fun and enjoyable experience for me and your pet.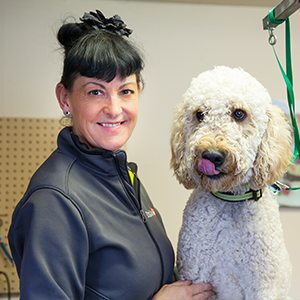 Deborah
I arrived in Jackson 25 years ago from Philadelphia and knew I found my home. My background is largely in restaurants, having waited tables and managed in many of Jackson's fine restaurants. At the age of 50 I decided it was time to figure out what I wanted to do when I grew up. I love art and being creative is my passion. I have a passion for animals of all shapes and sizes. Dog grooming was a natural fit for me to utilize my creative side in unison with my love for dogs.
It isn't just cutting hair and trimming nails for me. I love getting personal with each dog I care for. Making them feel as comfortable as possible while bathing them and giving them a new look. I want dogs to associate grooming with positive and enjoyable experience. To do this I sing and talk to them – just listen and you can hear me when you walk in the front door! I absolutely love what I do and feel honored to be able to be part of the grooming team at DogJax.